Direct Debits-Frequently Asked Questions
(1) What is a Direct Debit?
A simple, safe and convenient banking service, which enables you to authorise your Bank/Building Society to pay your accommodation or tuition fees when they are due.
(2) How Do I Open a Bank or Building society Account?
You will need to use a UK bank/building society and ask for details to set up a current account. Remember to say that you will need to set up a Direct Debit.
(3) Who can set up a Direct Debit Instruction to pay my accommodation / tuition fees?
As well as you, a parent, guardian, friend or relative can set up a Direct Debit Instruction to pay your accommodation or tuition fees. They must complete and sign the Instruction if their account is being used. It is your responsibility to pass on payment details to the third party
(4) How will I know how much is being taken from the named account and when?
The Direct Debit account holder will automatically receive a letter to confirm their account details and the amounts and dates of instalments. We will notify you at least 5 days in advance of any amendments.
(5) Can I cancel my Direct Debit?
Yes, you have the right to cancel at any time by notifying your Bank/Building Society and the University of Newcastle upon Tyne. Please ensure that cancellations are made at least 5 working days before payment is due.
For further information talk to your Bank or Building Society or the University Accommodation Office/ Tuition fees section.
(6) What will happen if I have insufficient money in my account to pay a Direct Debit Instalment?
You will incur a penalty of £25.00 as well as additional charges from your bank. This could also occur if you fail to notify us of a Change of Bank/Building Society details or they reject your instructions. Failure to pay will result in the outstanding balance being made payable immediately, and future payments by invoice.
If you intend transferring money from other accounts, please ensure you leave 5 working days for the money to clear from one account to another.
(7) How do I complete my Direct Debit instruction?
a) write the name and address of your Bank/Building Society in the space provided.
b) You can find your Bank/Building Society sort code and account number, by looking at your cheques (see diagram below).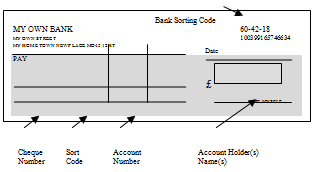 c) write the name of the account holder(s), whose account is to be debited, in the space provided.
(8) Where can I find my Student Number?
If you are a student, you must ensure that you enter an 'S' in front of your student number. This will be the nine digit code that you will find on your academic offer letter/ offer of accommodation/ smart card e.g. S050123456. When you enter this number please ensure that you include the prefix. If you are a non-student with a full year accommodation booking, you must enter the customer reference from your contract which will be prefixed with a 'P'.
A message has appeared "The student number you have entered could not be found on our system ". What does this mean?
When you submit your payment details to us, we check the entered student number against the numbers held in our system. If we can't find the number then the above message is displayed. If you receive this message then please re-check that you have entered the student number correctly.